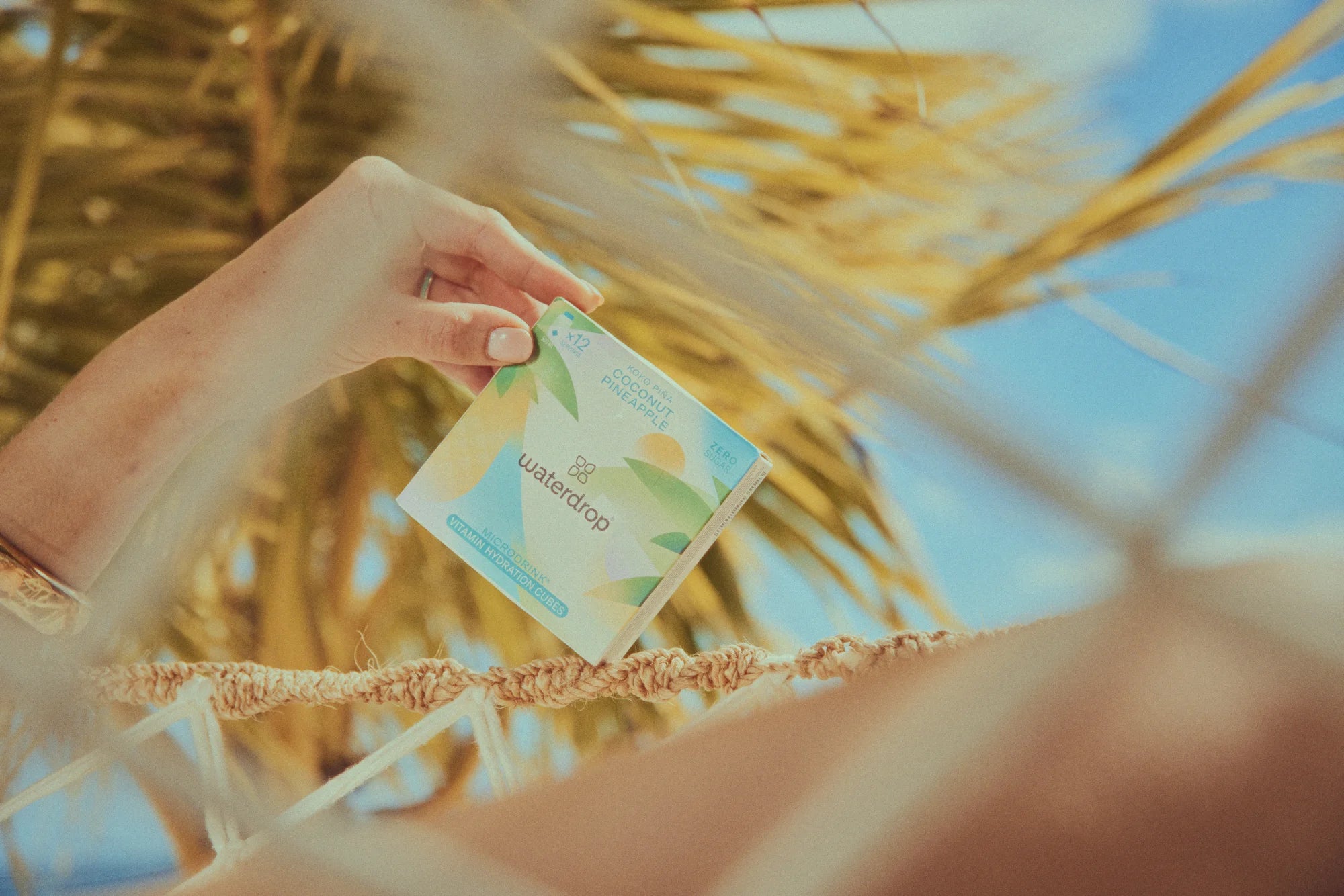 Say hello to KOKO PIÑA! The newest addition to the waterdrop® family (for a short time only!) is not just delicious–it also reflects the love we have for our community and vice versa. In case you didn't know, KOKO PIÑA is our first community flavour, created for and with the community. What does this mean? Read on and let's discover the secrets behind this new flavour! 
Firstly, what does KOKO PIÑA stand for?
KOKO PIÑA is areminder of the sun, breeze and all things summer–rest, relaxation and moments surrounded by people we love. Featuring sweet flavours such as the nuttily sweet Coconut and vibrantly tart Pineapple, each sip is sure to remind you the hottest season of the year is now upon us!Like every other flavour, KOKO PIÑA comes with its very own motto: "Drink More Water, come together." Coincidence? Think again!
A flavour designed with the community
As we mentioned earlier, KOKO PIÑA was developed with the waterdrop® community. But hang on a second, why and how did this all come about? Let's begin with the why. 
 - Firstly, the community that we've built around the brand is very close-knit and important to us. Satisfying them has always been one of our primary objectives (we even have an entire team dedicated to it!).

- A flavour created by the community has been on our minds for a long time, and a project that we've been asked about on numerous occasions. And that's just as well, because…

- Our members are super creative! Be it drawings, personalised bottles, songs or the 'invention' of new, digital flavours, they've more than demonstrated their creative flair on several occasions.Since all that was in place, we thought it was time to make this dream a reality – hand in hand with our community.
How: The Creative Process
Step 1: Determining the field of possibilities
After going through the flavour ideas/suggestions put forth by our community, we identified their preferences in terms of ingredients. We then passed this information on to our Production team, to check the availability of ingredients in powder/extract form.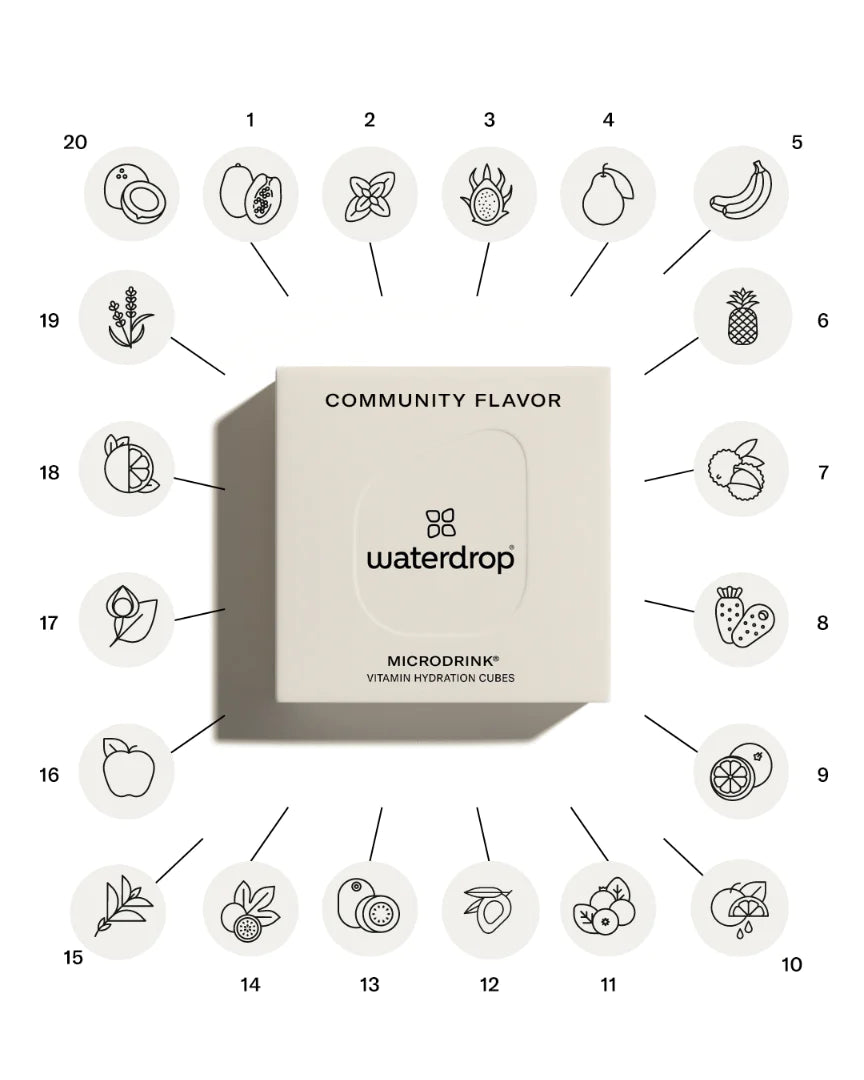 Step 2: Choosing the flavours
With the help of our teams, we put together a list of around 20 ingredients and voila! It was time to reveal the project to our members so they could vote for their three favourite ingredients. 
While some of the combinations sounded good on paper, we also had to make sure they tasted as good as they sounded. and so, our Production team stepped in once more to select the top 5 duos for a final vote.
The choice was simple: Coconut and Pineapple was the clear winner!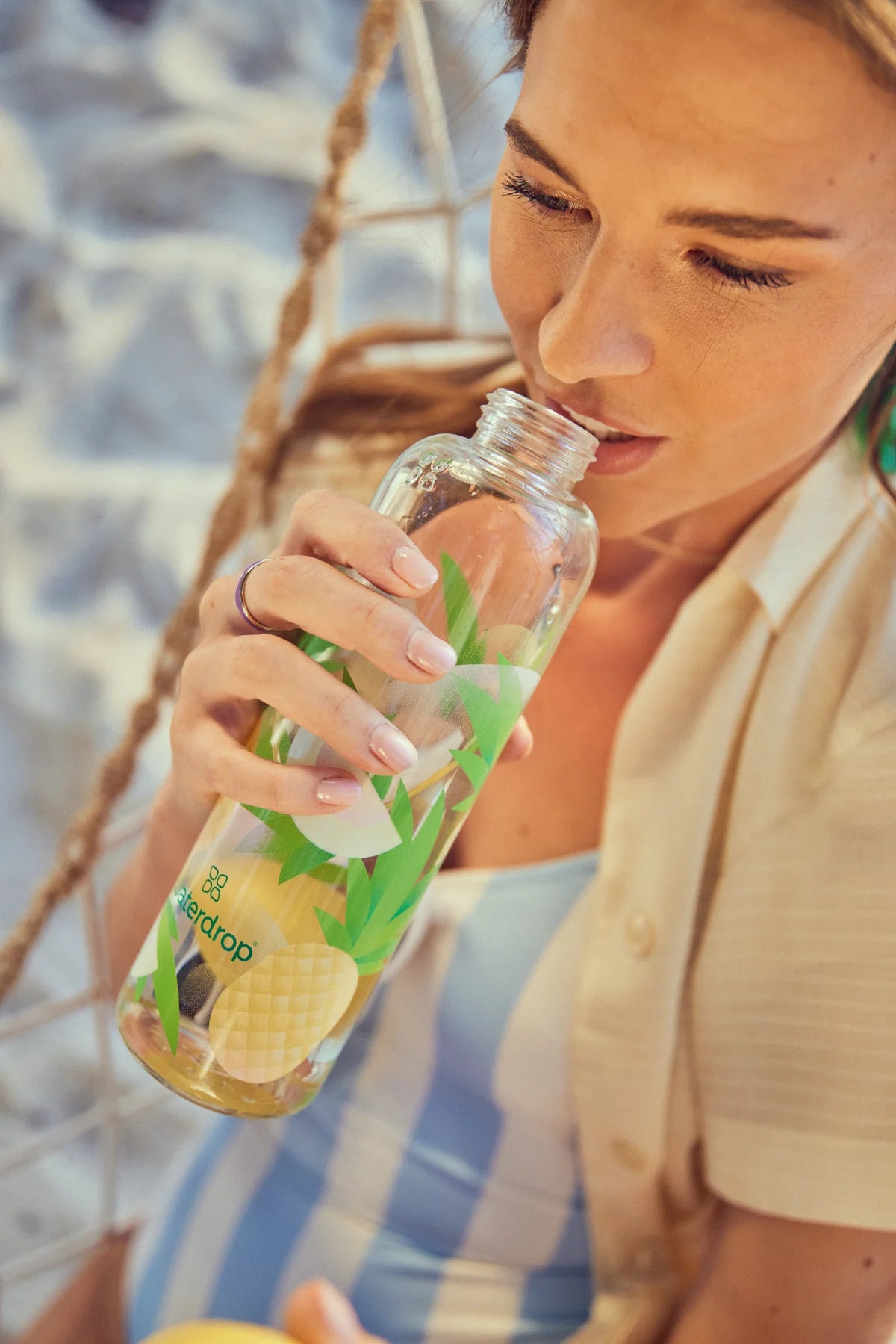 Step 3: Tasting
After developing several recipes, the project started to take shape before our very eyes as the first cubes were ready. As usual, employees of the Headquarters were the guinea pigs of the experiment, tasting several versions of the same flavour to determine which was best. Only this time, they weren't alone. While this was going on, tasting sessions were organised in our stores to get the community involved in evaluating colour, intensity, bitterness and acidity… Thanks to their help in this crucial step, we were able to nail down a final version of the flavour (name still unknown at this point!).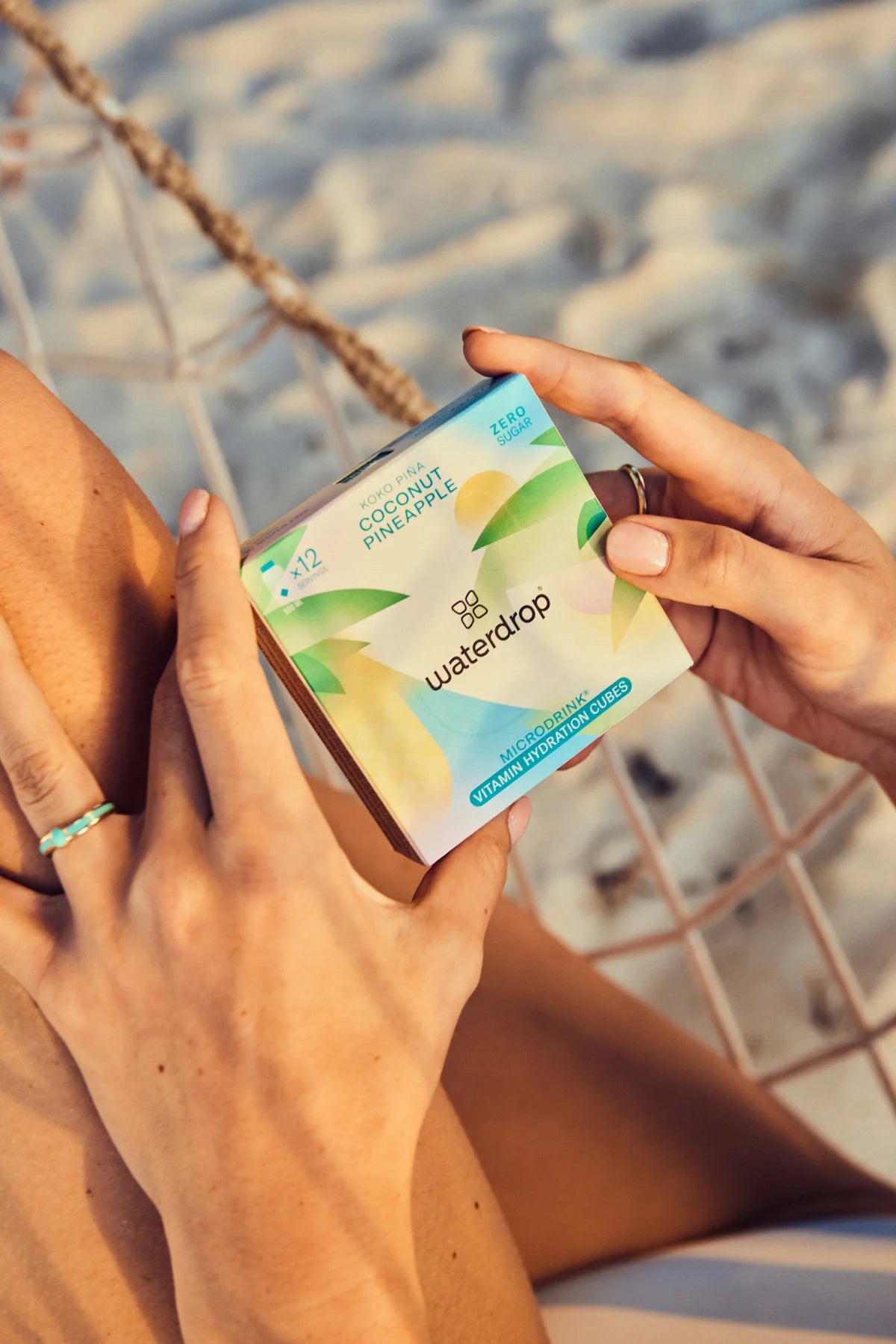 Step 4: Design
Arriving at the Design stage, there were 2 objectives to be met: 1) to determine the mood of the flavour i.e. what kind of feelings/emotions it should evoke and 2) to develop the packaging. Once again, the community was by our side throughout this whole process. Armed with the community's mood boards and design proposals, our Design team was able to make the most of their ideas. The result? A flavour that perfectly captures the essence of summer, with a tropical ambience thanks to palm trees and pastel hues.
Step 5: Naming
Now that the flavour had a taste and a visual identity, we were still lacking a name. To remedy this, we launched a poll to choose between 3 names: KOKO PIÑA, HONUA (Hawaiian for 'world') and WAIMEA (a beach located in Hawaii). KOKO PIÑA turned out to be the clear favourite and just like that, our new flavour was complete!
Step 6: Accessories
What would a waterdrop® flavour be without its matching accessories? Once again, we took our community's wishes on board and opted for summery accessories such as a beach towel and a hand-held fan – so our community can take a piece of us along while strolling around the town or the beach. As a bonus, we also designed a Mocktail Recipe Book – a must-have when it comes to hosting dinner parties with impressive aperitifs this summer!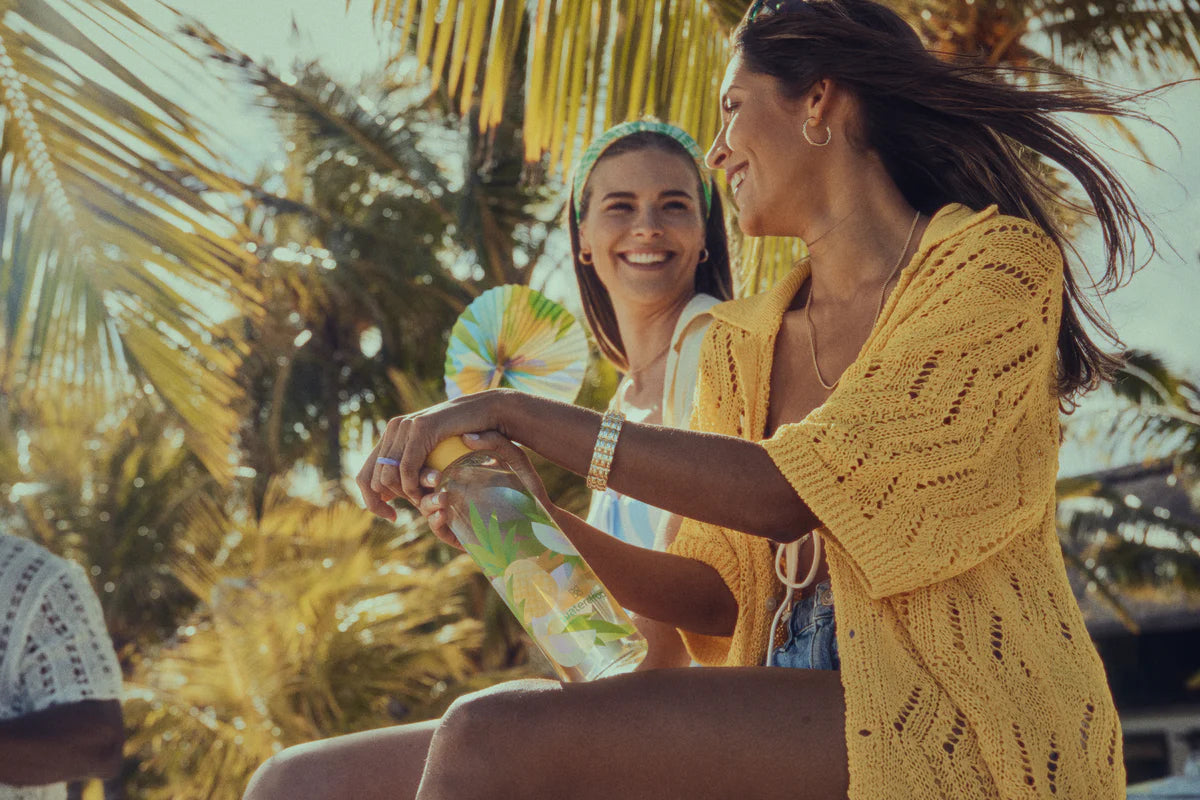 Through this entire creative process, we were reminded of just how valuable our community is and we are truly grateful to have their support. Now that KOKO PIÑA is ready and in your hands, we hope you have as much fun drinking it as we did developing it.